Awards
The Trustees are very pleased to receive reports from many awardees and some of these are included below, as well as illustrating the variety and breadth of awards made by the Trust.

Current and recent Research Projects

 

   
Recent Travel Awards

Erosion Control through use of filter socks to control runoff, sediment and nutrient losses from arable lands under extreme rainfall events (Cranfield University)

Workshop
Annual Review presentation

 

Travel to attend Agritechnica for a group of students from Harper Adams University  

Report

Travel Award for MSc project - Malta

Report

Leaf-specific weed control on vegetable crops  (Reading University)

Report

 

Support for Engineers without Borders project, Malawi

Report

Effect of conservation tillage systems on the creation of optimum seed bed conditions for oilseed rape in UK  (Cranfield University)

Poster
CIGR paper

 

Travel Award for MSc project- Malawi

 

Travel to attend European Society Soil Conservation conference, Rumania

Report

 

Support for Engineers without Borders project in Peru

Report

Cow vision : Image driven monitoring systems for dairy cows (University of Nottingham)

Poster

 

Support for Harper Adams University students to promote Agricultural Engineering at the Big Bang Fair 2017

Report

Virtual fencing project at Liverpool John Moores University

Poster

 

Support for student group to attend  Field Robot Event

Report

Ecosystem service delivery within a strip tillage system. Effect of tillage and fertiliser regime on provisioning service delivery

Poster

 

Support for travel to attend Thermal Management Symposium

Report

 

 

 
  Other Awards
Support for IAgrE Young Engineers Competition

and IAgrE Mentoring Scheme   

Funding for drone pilot licence training

Report

Sponsorship for Cranfield University Circular Economy conference

Report 

Subsistence support for studies and support for student project work

The Trust arranges industry visits for its Arkwright sponsored scholars
  Studentship Awards
The Studentship Awards for 2017/18 were made in February 2018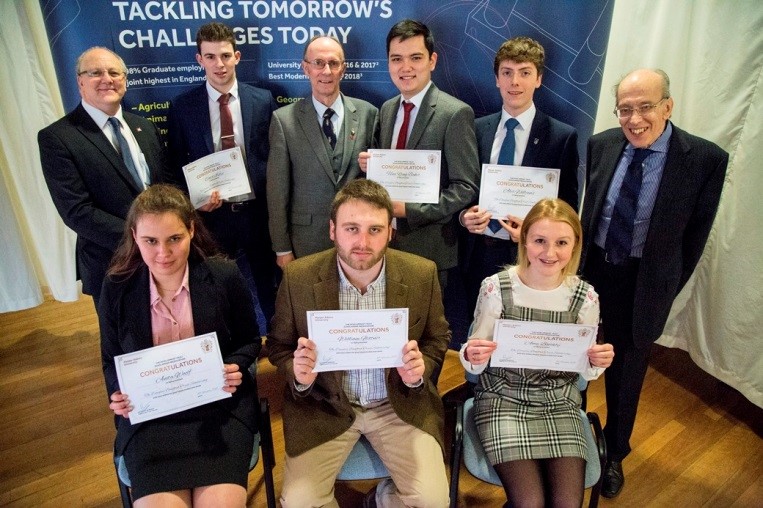 The Awards presentation was attended by Paul Miller, Trustee, David White, Trustee, and Alan Plom, Trust Secretary.